Discussion Starter
·
#1
·
Hi all<?: prefix = o ns = "urn:schemas-microsoft-com
ffice
ffice" />
Let me first say that I have just joined but this is because I
have a Corvette related tool box for sale and I am trying to reach the people
who are most likely to want it. If this is against the forum rules or upsets
people then let me know and I will remove it.
Now, on to the details:
I have for sale a Snap-On toolbox which is the 50<sup>th</sup>
Anniversary Corvette special. I bought it in around 2003 and was used in a
workshop for around 6 months for a professional mechanic (me). Unfortunately I
had to give up being a mechanic for medical reason so I moved it into my garage
where it has lived since. It has never been driven it to and I take care of it so
is in real good condition. It comes with keys, touch-up pen and a small cover
for the top box in case you want to rest anything on it without scratching the
top.
Here is a photo I have off the net but I will get mine out in the
sun on Saturday and take some proper photos so that you know it is real.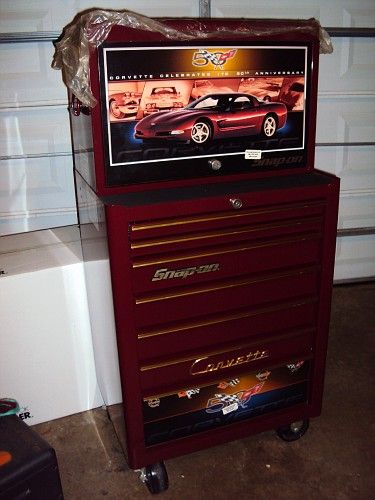 Now, I have no idea what it
is worth so I spoke to my local Snap-On dealer who said that a normal box of
the same age but nothing special would be around £700 to £750. I am asking £750
but there is a slight catch. I live in Jersey so I have two problems, one is
the shipping and the other is VAT. I will put the box on a pallet and make sure
that it is securely packaged, probably by wrapping it in bubble wrapping and
then encasing the pallet with wodden sides to stop anything moving or getting
damaged. This I will pay for. With the VAT, I have not paid VAT on it as we do
not pay it here so when it enters the UK, VAT will have to be paid. I am unsure
of what this would be as it is 2<sup>nd</sup> hand, I am not sure if a reduced
rate could be used. I believe that the buyer should be prepared to sort this
out but I will help in any where I can.
I am open to offers and happy
to answer and questions or comments.
Thanks
Edward